Evolution
Exploring the Origins

Uncovering Roots
Tracing back a progression of interrelated phenomena, to the times which sowed the seed, and to the soil that nurtured its roots, unfurling it into an eternally reliable system which would sustain the elixir of Healthy Life.
This publication serves as a comprehensive account of the life and achievements of Dr. Samuel Hahnemann. Oh, how time flies by! As we look back to his legacy, we can't help but feel a pang of nostalgia. The readers shall be apprised of Dr. Samuel Hahnemann's progression from a scientific and impartial observer to his extensive noteworthy contributions across diverse domains. This timeline does a beautiful job of capturing Samuel Hahnemann's transformation from a young lad to a celebrated pioneer. The work speaks of Dr. Samuel Hahnemann's perseverance, and his reliance on his internal world to sustain him through the hardships he faced.
Furthermore, the evolution timeline renders a meticulous portrayal of the discovery and advancement of Homeopathy as a medical field. This evolution was accomplished through a CQI (Continuous Quality Improvement) process based on extensive experimentation and profound knowledge sourced from various fields of study.
This timeline is a true treasure that will make you ponder on life and its' many wonders. We can't wait for you to discover it!
EUROPE - GEO-POLITICAL
Under the rule of Holy Roman Empire, a geo-political scenario full of conflicts between crowns resulted in frequent wars, changing boundaries and impacting lives.
EUROPE - EDUCATION
A large number of books were printed in Latin. The academies, aristocrats, and wealthy people could afford books and had own libraries. The cultural rule was that girls were to be educated at home informally as fewer schools offered proper education for girls.
HAHNEMANNS
Christoph Hahnemann, the Painter with his brother Christian Hahnemann migrated to Lauchstäd where Mineral springs were discovered by chance, inspiring the duke to build a spa hotel, ballroom, small summer houses, gardens and avenues, transforming the sleepy town into one of the era's key places to see and be seen among the nobility.
PORCELAIN
The production of porcelain in the royal factory at Albrechtsburg Castle in Meissen, near Dresden, started and attracted artists and artisans to establish, arguably, the most famous porcelain manufacturer known throughout the world.
MEISSEN
An Art School was attached to the royal porcelain manufactory and the talented artists were summoned to Meissen. The two painter Hahnemann brothers, Christian Gottfried & Christian August, being called at that time is an indication of their importance in arts.
CHRISTIAN FRIEDRICH SAMUEL HAHNEMANN
In the midnight of 10th of April 1755 at Meissen, in Saxony whose capital was Dresden, the 3rd child was born to Christian Gottfried Hahnemann(1720-1784), Painter to His Majesty's porcelain factory and his 2nd wife Johanna Christiane née Spiessen(1727-1790).
SEVEN YEARS' WAR
During this period the father and mother taught the child to read and write making lessons amusing.
During this period, the King Frederick II of Prussia, entered into Saxony and took away the whole supply of Meissen porcelain and forcibly transferred the best workers to Berlin.
EARLY YEARS PARENTING
When Christian Friedrich Samuel Hahnemann was 5, his father had a habit of giving his son, what he referred to " thinking lessons."
Professor Flügel states, from the account of the old members of the porcelain factory: The father before going to the factory, frequently used to lock his son in a room, close the shutters, and give him a difficult sentence to ponder over, of which he had to give an account on his father's return. This contributed in making the son into an original thinker. How can a child be kept safe and occupied in such a way that he learns positive even amidst the negative war zone? Parenting is of utmost importance in making the future of a child.
FRANCISCANEUM
The Grammar School - got it's name as it taught the middle-class boys Latin Grammar.
Many people were illiterate but Upper-class children were educated. Among the Medieval poor the better-educated priests might teach some children to read and write – a little.
A YOUNG TEACHER
At the age of mere 12 years, Christian Friedrich Samuel Hahnemann was instructing others in the rudiments of the Greek language at the wish of his teacher M. Johann August Müller(1731-1804) and a year later he taught Hebrew, too.
LANDESSCHULE ZU AFRA
Admitted to the Prince's School at St. Afra in November, authorised by the Elector Friedrich August I, the Just (23/12/1750--05/05/1827) to be admitted as an External Student, to attend the Public Lectures under the special supervision of the third colleague M. Johann August Müller(1731-1804).
LINGUIST AT 20
At the age of 20, Christian Friedrich Samuel Hahnemann had Fluency in 8 languages. German, Arabic, Hebrew, Greek, Latin, French, Italian and English.
An Original Latin poem composed for the Distinguished philologist Prof. Zeune.
UNIVERSITY EDUCATION
Christian Friedrich Samuel Hahnemann was set up by his father to work as an apprentice of a grocer in Leipzig and learn the art of business to become a merchant. But this occupation was dreadful to the boy whose inner life yearned for education. He stated his objective clearly to his master and returned home. Fearful of his father, the mother hid him for several days before softening his father's heart and making him agree to his son's wish of University education.
Under such unfavourable circumstances as these, he had prepared the way for an academical course.
WIEN (VIENNA)
Moved to Vienna for extensive practical knowledge, as Leipzig possessed no establishment for the practice of medicine.
Here Christian Friedrich Samuel Hahnemann received his training at the Hospital of the Brothers of Mercy of Leopoldstadt under the great practical genius of celebrated Dr. Josef Freiherr von Quarin, Dr. art. lib., Dr. phil., Dr. med.(19.11.1733 Wien – 19.3.1814 Wien) the imperial personal physician of the emperor and 6 times rector of University of Vienna, who referred Christian Friedrich Samuel Hahnemann as his especial Protege taking him along to visit private patients.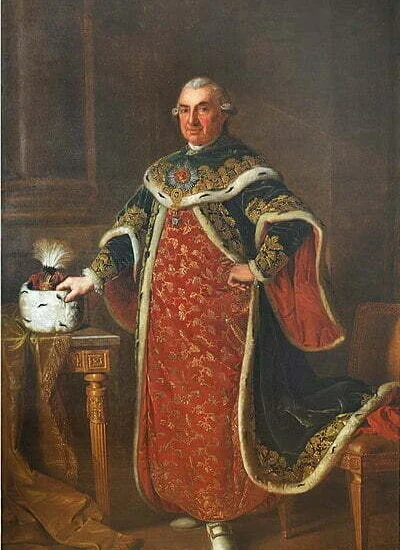 PRIVATE PHYSICIAN & LIBRARIAN TO THE GOVERNOR
Invited to Hermannstadt as private physician and librarian to the Governor of Transylvania, Baron Samuel Von Bruckenthal (26.07.1721 Leschkirch - 09.10.1803 Sibiu) who was a Lawyer, Art Collector & Personal Advisor to Empress Maria Theresa.
Christian Friedrich Samuel Hahnemann - Candidatus Med. & Librarian to S.E. the Governor - was admitted to the Brothers of The Masonic Lodge on 16th October 1777 in Hermannstadt.
This was an opportunity of acquainting with several languages and sciences connected with medical profession. Ancient literature and occult sciences - Greek, Latin, English, Italian, Hebrew, Syriac, Arabic, Spanish, German and some Chaldaic.
DOCTOR OF MEDICINE
On 10th Aug 1779 Christian Friedrich Samuel Hahnemann received the honourable title of doctor of medicine, at Erlangen after defending his 21 pages long thesis - A consideration of the aetiology and therapeutics of Spasmodic affections. - which was published as a quarto.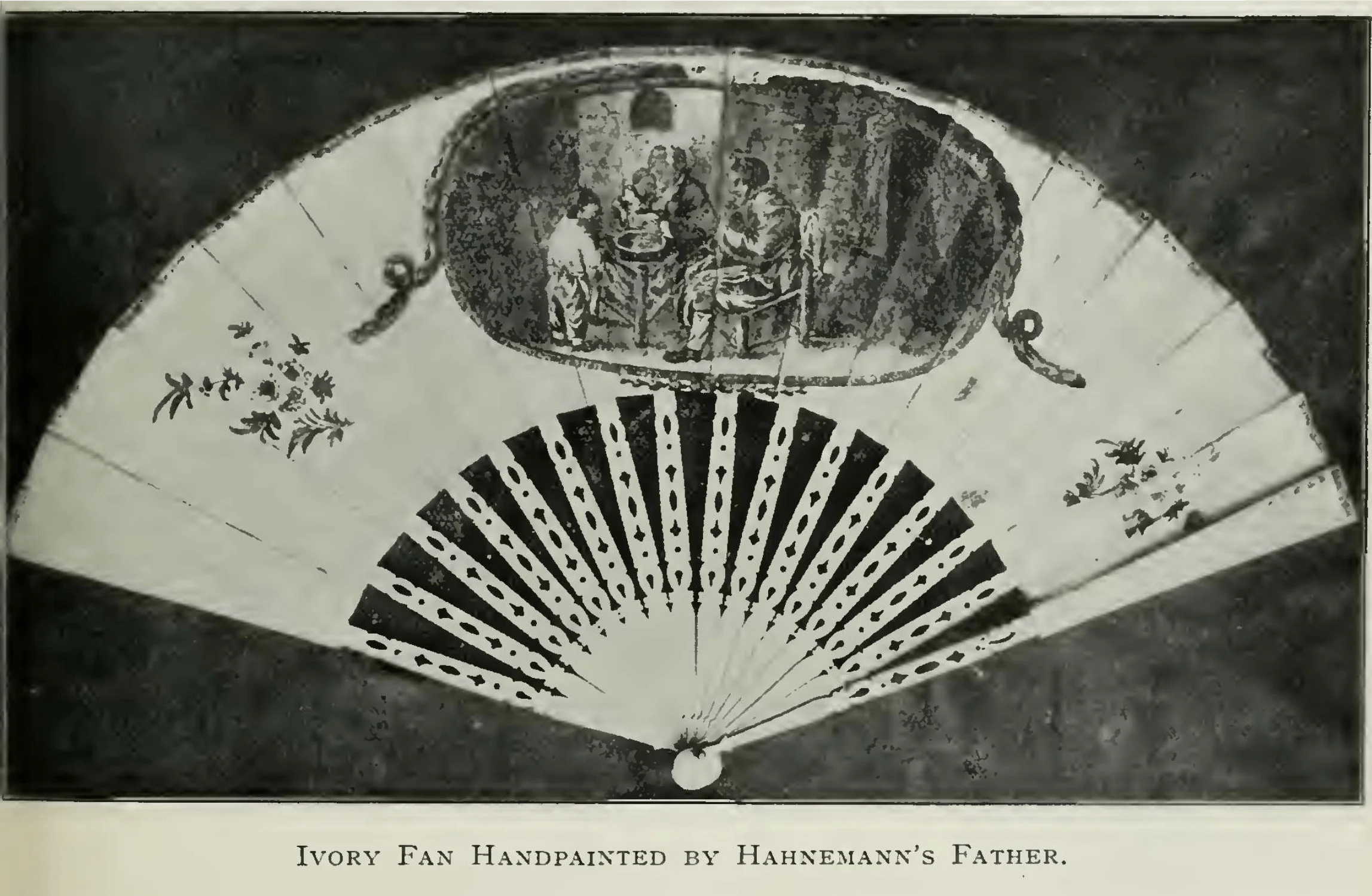 FIRST PATIENT
Painting of the young Dr. Samuel Hahnemann giving physic to his first patient a shoemaker, painted by his father Christian Gottfried Hahnemann on a fan.
This evolution timeline is part of our ongoing research and hence it is updated regularly. As soon as we come across something of importance, during our research, we add the same, post verifying and cross-verifying the authenticity of source.